JWP Patent and Trademark Attorneys was awarded with "Firm of the Year 2017" title by the Managing Intellectual Property magazine. The Ceremony at London Savoy Hotel was attended by Dorothy Rzążewska, managing partner, Joanna Janoszek, head of the Wrocław office, Marta Krzyśków-Szymkowicz, head of the trademarks and industrial designs team, Piotr Godlewski, head of patents team and Anna Kupińska, head of the team of validation.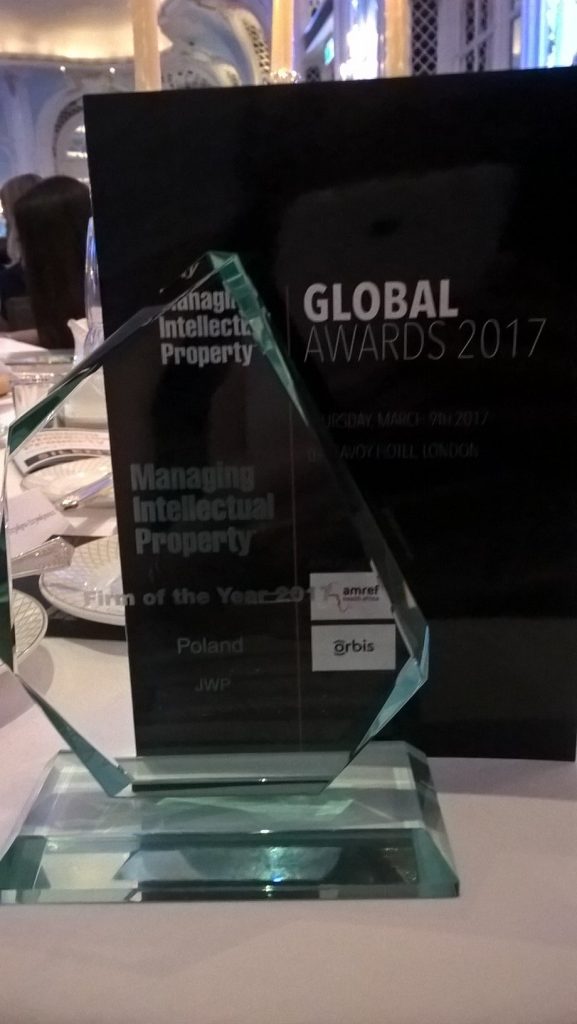 "This award will give us great inspiration and motivation for action. We have worked hard on our position and we do not intend to rest on our laurels" – commented Dorota Rzązewska. "We built a team that combines  youth, creativity and years of experience. This year we are celebrating our 25th anninversary, so this award is a great gift for the company" – she added.
The title of "Firm of the Year" is an award for law companies dealing with protection of intellectual property, which activities over the past year stood out in the domestic market when comparing to other law firms. The finalist were chosen by the special research team with the support of the editorial staff of MIP who graded development dynamics of the company, its approach to customer issues, and other achievements. Law offices could not partake in the nominations nor they had any impact on the judges' decision. For more information on the awards please visit www.managingip.com.
JWP was also honored to be included in the IP Stars Handbook publication among other distinguished Polish companies issued by the Managing Intellectual Property magazine.